Specialists in Orthodontics for Adults and Children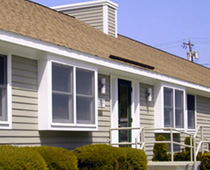 Dr. James Buechel has been practicing his orthodontic speciality since 1991 and proudly serves Massachusetts' South Shore. He and his team offer state-of-the-art orthodontic technology in a caring and comfortable environment. We use digital radiography, models and photos to work closely with your dentist in order to achieve your most beautiful and aesthetically pleasing smile.
It is our goal to create healthy smiles for our patients and we are always happy to talk with you about treatment options, including traditional metal braces, clear braces and Invisalign. Our office will also file all of your insurance paperwork and can help you with financing if necessary.
Please take a look at our website to learn more about orthodontic treatment options and how we can help you achieve a beautiful, healthy smile.