Types of Braces
Ceramic Braces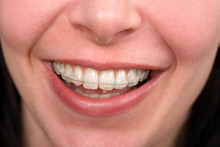 Ceramic braces can give the "appearance" that you are not wearing braces. They are translucent or the same color as your teeth. The actual brackets are made of monocrystalline or polycrystalline alumina. Monocrystalline alumina are sometimes referred to as sapphire as the brackets match the color of teeth enamel. Polycrystalline alumina brackets are clear.
---
Metal Braces
Metal brackets are square and triangular. The latter is designed to move the root and the crown of teeth simultaneously compared with traditional squared brackets. Designer metal brackets are available. These star, flower and heart shaped brackets offer different looks. Metal braces come in two options, stainless steal and gold. You're probably more familiar with the stainless steel braces. Both are visible and the gold metal braces are highly visible. Traditional braces move teeth at a faster rate that ceramic braces.
---
Invisible Braces
Clear appliances, such as Invisalign® use a series of invisible, removable, and comfortable aligners to straighten your teeth. And, no one can tell you are wearing those aligners because they are invisible! Not only are the aligners invisible, they are removable, so you can eat and drink what you want while in treatment, plus brushing and flossing are less of a hassle. The aligners are comfortable and have no metal to cause mouth abrasions during treatment.